3 tags
Economic Disparity in the Workplace
The economic disparity between women and men is a pressing gender equity issue that demands international attention. While current labor trends in North America demonstrate that a majority of American women are now breadwinners in their households, women are not being justly compensated for their work. During my trip to the 57th CSW at the United Nations, I sat on panels that focused on...
4 tags
The Rise of Sexual Violence in Egypt
Attending the events held at 57th session of the UN Commission on the Status of Women (CSW) for the first time was truly an eye-opening and affective learning for me. The CSW session is an annual event held in NYC that provides a forum to women's rights NGOs and activists from around the globe to discuss their progress within women's rights advocacy. The main discussion of the 2013 session was...
4 tags
Growth, Austerity and Geopolitical Shifts
On 9th November 2012 the United Kingdom (UK) announced that it will end its financial aid to India by the year 2015. New "programmes will take the form of technical assistance," while "investments in private sector projects" will be expected "to generate a return," according to its Department of International Development. The UK government goes on to note that the "shift reflects India's...
7 tags
Invest in Peace and Redefine Security
Have you ever wondered about your government's spending on the military and the ways in which it impacts the availability of critical social resources? On the first day of the CSW, Monday, March 4, 2013, the Center for Women's Global Leadership along with partners, the Global Fund for Women and Women's International League for Peace and Freedom, convened a panel discussion on the intersections of...
7 tags
Economic Policy is a Women's Rights Issue
Economic and social rights provide a fundamental standard of decency for evaluating our economic system and holding governments and private actors to account. These human rights are inalienable – individuals cannot have their rights taken away due to political changes or economic crises such as the one we are currently experiencing. The recent global economic crisis is evidence that the economic...
7 tags
More Than Just a Theme: Violence Against Women and...
The 57th session of the Commission on the Status of Women began earlier this week with Member States coming together to discuss and reach an agreement on this year's theme of "elimination and prevention of all forms of violence against women and girls" and on the review theme of "the equal sharing of responsibilities between women and men, including caregiving in the context of HIV/AIDS". Civil...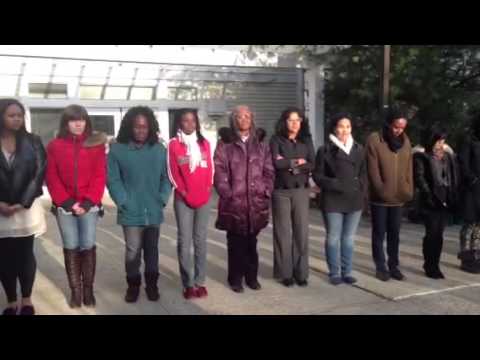 5 tags
Why I Rise
Today, on V-Day's 15th Anniversary, I consider why we rise; why the staff at the Center for Women's Global Leadership, why our colleagues at Rutgers University, and why individuals and organizations from around the world chose to rise up and take a stand against gender-based violence as part of ONE BILLION RISING. Someone asked me the other day how gender-based violence can still be so prevalent...
6 tags
16 Facts About "Domestic" Violence and Peace
By Soraya Chemaly Would you believe it if I said that when a country reduces its rates of violence against girls and women it also lowers its propensity for engaging in military conflict?  There are meaningful, powerful and verifiable connections between violence in the home and a nation's level of militarization and war. It turns out that the security of girls and women — how safe they are...
7 tags
12 tags
Community Radio – A Tool for Peace?
By Sharon Bhagwan Rolls So why does community radio matter? Shouldn't we be mainstreaming and making news, shaking things up in the mainstream media? I only wish it were that easy. After departing from a career in corporate media where I was constantly trying to find ways to take the messages from our women's movement beyond the confines of International Women's Day and 16 Days Campaign events, it...
8 tags
9 tags
One Feminist's Perspective
By Patricia Teffenhart Chipped and cracked, I still have in my possession my childhood mug that reads, "A Woman's Place is in the House…Senate and Supreme Court." That statement, at such a young age, made an indelible mark on my sense of self and my view of the world around me. It seems as if I've spent my whole life defining and honoring my own personal interpretation of feminism. What I have...
8 tags
9 tags
Masculinities and Militarism
By Isabelle Geuskens When, as women activists, we come together to discuss gender and militarism, we often end up discussing how militarism affects women's lives. Men are also a recurring topic during these conversations: Men taking up arms to settle conflict; men raping women as a strategy of war; and men deciding who gets what at the peace table. Consciously or not, we often end up concluding...
11 tags
Women Mobilize To Tackle Gender-Based Violence
By Mabel Bianco Violence against women and girls is the most frequent, silenced and unpunished type of human rights violation. It is a global problem that impacts on women of all ages, cultures and socio-economic backgrounds, and is rooted in the power inequalities between men and women which are based on cultural values and norms. One of the main obstacles to eliminating violence against women...
9 tags
Bringing College Men into the Movement to End...
By Dina Mansour Hey guys, you know what's really cool? …Empowering Women! And there's never been a better time to tell you how than during the 16 Days of Activism Against Gender Violence Campaign. Just a little recap for those of you who may not know: the 16 Days Campaign runs from November 25th (International Day for the Elimination of Violence Against Women) to December 10th (International Human...
8 tags
A Hostile State: On Being a Woman Human Rights...
By Masa Amir On December 2011, the image of an abaya[1]-clad female protestor being dragged on the streets of Cairo by military soldiers went viral. The woman's abaya was ripped by the soldiers, exposing her naked torso and blue bra as a soldier stomped on her chest with his heavy boots. The image epitomized the attitude of state actors when dealing with women human rights defenders (WHRDs). Faced...
7 tags
For True Peace and Security: Welcoming the 16 Days...
Worldwide, militarism continues to be a significant source of violence against women, from the domestic sphere of the home to civil war and international conflict.  This year's 16 Days of Activism Against Gender Violence Campaign seeks to highlight the linkages between gender-based violence and militarism through our 2012 Campaign theme, From Peace in the Home to Peace in the World: Let's...
6 tags
What we should think about in the aftermath of...
November 7, 2012 In 2006 the United Nations adopted guidelines on human rights and humanitarian disasters.  The document focuses on the ways in which intergovernmental organizations and civil society respond to crises from a human rights-based approach. However, the role of government is not addressed. Hurricane Sandy severely impacted areas in Cuba, Haiti, Jamaica, and the northeastern coast of...
8 tags
When 50 million people in the U.S. do not have...
For the International Day for the Eradication of Poverty, October 17th, I want to raise the issue of food insecurity in the U.S. Article 25 of the United Nations Universal Declaration of Human Rights declares that everyone has the right to an adequate standard of living which includes food and health, but has the U.S. government ensured the right to food? I don't think so and here's why. In 2007,...
6 tags
What does economic policy have to do with it?
Thank you for your messages on my last blog! Many of you shared when you thought about human rights; issues ranged from violence, racial profiling, access to healthcare, prisoner rights, voter rights, rights of older people, and the list goes on. Clearly, we do think about human rights, but when we do … who do we hold accountable? Do economic ministries or the treasury come to mind? We rarely...
6 tags
Let's talk about language
A few days ago, in relation to his anti-abortion stance, Todd Akin, the Missouri Senate hopeful, stated, "If it's legitimate rape, the female body has ways to try to shut that whole thing down." The reactions came almost immediately, and from every angle.  It seems no one was staying silent on the issue, and several days after making the remarks, Akin is receiving requests to quit the race from...
4 tags
What does human rights have to do with it?
How often do you think about human rights? Understanding the human rights perspective is critical to respecting and defending the rights of all people worldwide regardless of race, gender, class, ethnicity, sexual orientation, and identity. As individuals and communities, we (rights holders) have a responsibility to hold our governments (duty bearers) accountable to upholding human rights....